Introduction
I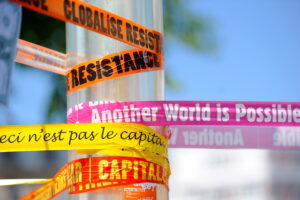 n July 2001, at least 300,000 people marched in the streets of Genoa, Italy, participating in a week-long protest against the city's G8 summit. As an alternative to this gathering of global political leaders, the demonstrators set up a counter-summit, which included seminars, workshops, concerts, and happenings of every kind. It was the culmination of years of world-wide protests, which began in Seattle in 1999 and accrued into what mainstream media and institutions at the time referred to as the "No Global" or "Anti Globalization" movement. To us and its participants, however, No Global meant "movement of movements." Indeed, heterogeneity was one of the key markers of this period of mass protests. These movements of movements tried to imagine, and fight for the realization of, other possible worlds, largely in response to the rampant neoliberal eighties and nineties during which there seemed to be no alternative to the globalization of "free market" capitalism. Prominent expressions of these movements can be found in the experience of local and global social forums which emerged from the international demonstrations and meetings of Seattle, Göteborg, and Porto Alegre.
Twenty years later, what is left of those movements? How did they grow and disseminate? And what are the consequences, specifically, of the Genoa protests beyond Italy? The latter question conjures up a broader framework of interpretation that includes evaluating the effects of September 11, 2001, the wars in Afghanistan and Iraq, the other global protest movements of these years. Two decades later, a pandemic has lifted this ideological vail and revealed the capitalist colossus' proverbial feet of clay. Our aim with this volume, therefore, is to uncover the threads that draw connections between "Genoa" and various past and contemporary social and political movements and conflicts throughout the world.
Aims and Objectives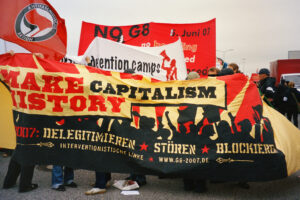 This volume of Zapruder World aims at bringing different perspectives on how the events of Genoa 2001 have been perceived, received, elaborated, and memorialized outside of Italy. Our sister association in Italy, Storie in movimento (Histories in Movement, or SIM), was founded precisely by historians and social activists who participated in the protest movement in Genoa in July 2001. Our objective is to focus on the transnational and global elements which connected Genoa to protest movements around the world, both before and after.
Topics and Themes
We invite contributions focusing on any area of the world, which address one or more of the following themes:
Seattle and other pre-Genoa movements
Genoa and the global social forums
Ephemeral memorials (writings, statues etc) dedicated to Carlo Giuliani and other figures of the movement of movements
Histories of local and territorial social forums (at local, national, regional, continental levels)
Local connections and inheritances between post-Genova social forums and other movements (Occupy, Standing Rock, Black Lives Matter, etc.)
Genoa 2001 protests and their legacies in anti-globalization movements
In addition to scholarly articles, we invite submissions of non-essay form original work, such as photo essays, videos, interviews, drawings, comics, songs, hyperlinks to online resources, multimedia, etc., both accompanying the articles themselves and as standalone contributions. We encourage authors to think about incorporating multimedia both into their pieces proposed for Zapruder World and in the sections we have created on the journal's website (e.g. "Yesterday" and "Today").
Volume Deadlines & Schedule
Abstracts in English (200-400 words) shall be sent to submissions@zapruderworld.org by January 15, 2021. All contributors will be informed about the status of their abstract submission by February 1, 2021. The full article (6,000-9,000 words) will be expected by May 1, 2021.
For information on Zapruder World's peer review process or submission instructions, please see the following URLs: